At GHEC, We've got the Experience to Meet all of your Commercial Electrical Needs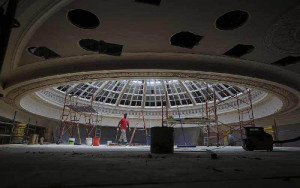 As a business owner, it's important to partner with a commercial electrical company that you can trust with both the big jobs and the small jobs. But with so many quality commercial electric contractors to choose from, how do you make an informed decision?
Our team at Gary Houston Electric Company has been one of Arkansas' leading commercial electricians since 1978, and we want a chance to earn your business. We've been fortunate enough to enjoy large amounts of repeat business, and will be happy to provide you a list of recent references. We also encourage you to check us out online with the Better Business Bureau, social media, and sites like Angie's List. We're proud of our reputation, and here are just a few of the reasons that our clients keep coming back:
Professional Lighting Design – We'll make sure that your parking area is properly lit so that your customers can find you, and so they'll feel safe walking to their cars at night. We can also do a lot on the inside. If you're a retailer, we'll create lighting designs that will make your customers feel comfortable in your store so that they'll stay longer, and spend more. We can also create attractive lighting displays that will draw attention to the high-profit items that you wish to showcase.
Kohler Emergency Backup Generators – Arkansas is no stranger to extreme weather, and power outages occur year-round. But with a backup generator, your lights will be back on in a matter of seconds any time there's a power loss. This is a great convenience for both your employees and your customers, and Kohler generators are more affordable than you think.
24 Hour Emergency Service – Some companies close their doors on nights and weekends, and some are open all day, every day. Whatever your situation, when you have an emergency, we'll be there.
At Gary Houston Electric, we take a lot of pride in our lasting relationships with our clients, and we look forward to partnering with your business for many years to come. We have the most professional and customer-focused team in the business, and we offer a 100% satisfaction guarantee on every service call. To schedule a service appointment, contact us online, or at (501) 375-8330.