When Your Office Needs Professional Lighting Design, Call the Experts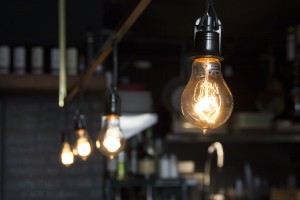 Did you know that an office lighting upgrade can increase profitability? It's true. In addition to serving the most obvious purpose of helping your employees and clients see where they're going and what they're looking at, quality lighting design can also have an immediate impact on your bottom line.
Our team of commercial lighting contractors at Gary Houston Electric Company have been partnering with small businesses in central Arkansas since 1978, and we have the expertise you need for quality lighting design and installation. Contact us at any time for a free, no obligation consultation, and let us show you how to light your way to success. Here are a few of the benefits of professional lighting design:
Storefront visibility – One of the reasons that big box retailers are so successful is that you can see them from blocks away. They have well-lit storefronts and parking areas, and they never lose business because their customers can't find them. If your storefront can be spotted from two stoplights away, your customers will have much more time to remember that they need to pick up a few things. And, if you're in a shopping center or strip mall, well-lit signage will help your new customers find you, and will increase your walk-in traffic.
Increased length of stay – If you're a small boutique business, you know the more time your customers spend in your store, the more money they spend in your store. That's why it's important to create a retail space that is comfortable and inviting. Sconce, recessed, and track lighting are all tasteful alternatives to banks of fluorescent tubes, and they allow you to create dramatic lighting presentations that will drive sales on your most profitable items.
Energy Savings – LED commercial lighting is becoming increasingly popular, because it provides the same amount of lumens as incandescent and fluorescent lighting using a fraction of the wattage. LED bulbs cost more, but can last for up to 5 years, and they pay for themselves over time.
As a small business owner, you're always looking for ways to do more with less, and our team of lighting designers are here to help. Get started by scheduling your free consultation here, or give us a call at (501) 375-8330 if you have any questions.