Call GHEC for safe and professional electrical installation services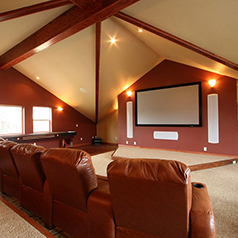 Whether you're interested in building a new home, remodeling, or making sure that your older home meets all of the current electrical safety standards, our team at Gary Houston Electric is here to help. We've been central Arkansas' most trusted residential and commercial electrician since 1978, and we have hundreds of combined years of experience.
Here's a look at some of the installation and remodeling services that we offer for homeowners, and we're always a phone call or a mouse click away if you have any questions!
Home Lighting-Homeowners throughout the world are now using LED lighting in their homes, and they're enjoying the same amount of light as traditional bulbs at a substantially lower cost. It's easy enough to switch out light bulbs in your lamps and light fixtures, and we can help you install recessed lighting or track lighting to create ambiance throughout your home. We can also help you install smart lighting and programmable thermostats with Bluetooth connectivity.
Electrical Safety-If you have any non-functioning outlets, you should have a professional electrician restore them to service or remove them. You should also replace all outdated two-prong plugs in your home and install outlets with Ground Fault Circuit Interrupters (GFCIs) as an additional layer of safety.
Emergency Power-We're Arkansas' leading installer of KOHLER emergency generators, and we can help you find a generator that's right-sized for your home. Your emergency generator runs quietly on clean natural gas and can restore power to your home in a matter of seconds. An emergency generator is more affordable than you think, and it's a great way to keep your family safe and comfortable during severe weather events.
If you have any questions about electrical services for remodeling, or if you would like to schedule a free consultation, contact us online, or at 501-375-8330.
If you have any questions, or would like to schedule service, contact us online or at 501-375-8330.