Let us create a patio lighting package that will allow you to enjoy your backyard all night long!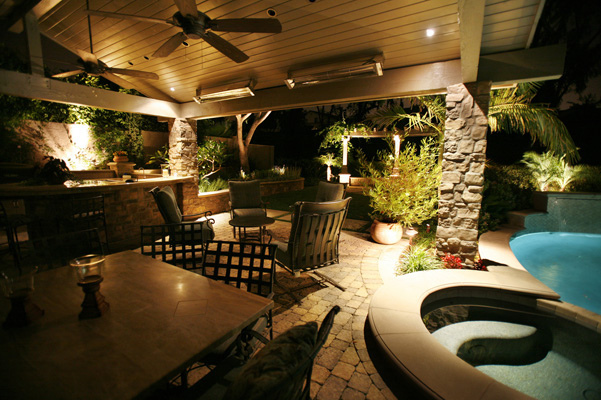 Since 1978, our team at Gary Houston Electric has been Arkansas' leading provider of premium commercial lighting and industrial lighting services, and you can't go to too many places in central Arkansas without seeing examples of our work. When you have great design and quality installation, lighting is a great way to boost business, and we've always enjoyed partnering with small locally-owned businesses to help them grow.
We're also passionate about helping homeowners do exciting new things with lighting at their homes. We've created many exciting lighting designs for thousands of homeowners over the years, and it doesn't matter if you own a palatial mansion or a small starter home: we will work with you and your budget to create a great lighting design that will fit the ways that you use your home and all of its living spaces.
One popular tradition for homeowners is the backyard cookout, and there's nothing like enjoying the sunshine and fresh air. You work hard, and you owe it to yourself to play hard. But when your outdoor get-together lasts a few extra hours after sundown, are you ready?
We know that no two homes are different, and will work with you to create a quality lighting design that will turn your backyard into an all-night playground for both you and your children. We'll start by making sure that your patio is evenly lit, and perfect for entertaining guests. We can also install additional lighting for the rest of the yard so that you can always keep an eye on the kids.
And don't forget the front of the home! A well-lit front yard is a great way to show off your beautiful home after dark, and it's also a very effective deterrent for burglars and vandals. Whether you want constant lighting, timed lighting, or motion sensor lighting, Our team of residential electricians are always a mouse click or a phone call away.
If you have any questions, or would like to schedule a service consultation, contact us online, or at 501-374-8330