Upgrade to LED lighting and save!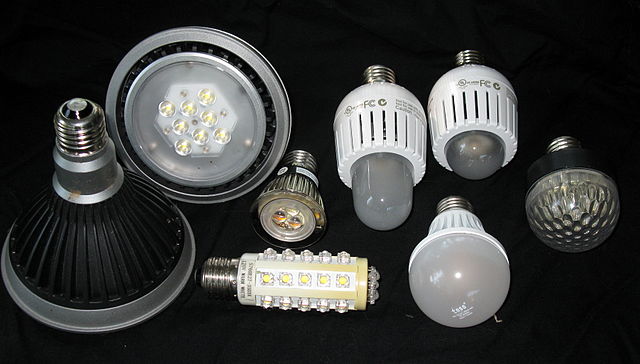 As we begin another brutal Arkansas summer, most of us are torn between setting the thermostat at a comfortable temperature, or trying to save money on our electric bills. But what if we told you that there are other ways to lower energy costs without sweating all summer long?
Our team at Gary Houston Electric is Arkansas' leading provider of Light Emitting Diode (LED) lighting installation, and we're a phone call away if you have any questions about LED light fixtures for home or business use. You've probably already replaced many of your light bulbs with Compact Fluorescent Lighting (CFL) bulbs, but the new standard is LED lighting, which emits the same amount of light (or more) at a fraction of the energy usage. And the good news is that it will be years before you'll have to replace the bulbs.
Incandescent light bulbs are classified by wattage, but when it comes to high-efficiency light bulbs, wattage isn't as useful of a measure as lumens. Wattage is a measure of the the amount of energy required to power the bulb, and lumens are a measure of the amount of light that the bulb produces. For example, A 10-12 watt LED bulb generates approximately 800 lumens of light, which is equivalent to a 60 watt incandescent bulb. LED bulbs are labeled with both wattage and lumens, and can produce the same amount of lumens while using up to 75% less energy.
LED light bulbs are more expensive than standard light bulbs, but as they continue to become more popular, their prices continue to drop. But the extra expense is a small price to pay when you consider that the bulbs will ultimately pay for themselves many times over due to reduced energy consumption, as well as the fact that they can last up to 25,000 hours! LED bulbs also emit less heat than traditional incandescent bulbs, and contain no breakable filaments or glass.
When it comes to making your home more energy efficient, upgrading to LED lighting is a relatively modest investment, and the quicker that you make the upgrade, the more that you'll save on your energy costs! When you're ready to make the switch to high-efficiency lighting for your home or business, contact us online, or give us a call at (501) 375-8330.